---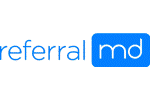 ReferralMD is designed to incorporate all the tools needed to effectively manage referrals and your provider network. ReferralMD is the only solution on the market that offers referral management, patient access solutions, pre-referral consults, marketing CRM and analytics in one platform.
The comprehensive ReferralMD platform includes:
Referral management
Pre-referral consult
Online scheduling
Patient engagement
Fax management
Marketing CRM
Market research tools
Provider directory
Real-Time analytics
Online collaboration and automated communications help close the feedback loop and improve customer service between providers and patients. Customizable workflow and decision support tools help standardize the consult and referral process and drive compliance with best practices and defined service levels.
The integrated Veradigm®-ReferralMD solution can help your organization realize a rapid return on investment by:
Increasing Revenue

Reducing Patient Leakage
Improving the Patient Experience
Closing Feedback Loop with Referral Sources
Driving Operational Efficiencies
Mitigating Risk
To learn more, please download our datasheet. Check out how the Veradigm® PM integration with ReferralMD has led to success at Coastal Fertility. Read the story
Documentation: