---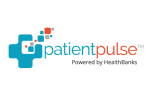 Patient Pulse is an administrative communication and engagement platform made up of three core modules, which operate as a group or independently:
1. Patient Notify: not just an appointment reminder system, it is an appointment enhancement system. Patient Notify includes fully customized reminders by appointment type like New Patients, including intake paperwork and screeners, Confirm or Cancel follow-up prompts, fully automated text and e-mail delivery. Also create Patient Recalls to ensure patients are coming in for important follow-ups and much more.

2. Post-Visit XP: an automated patient survey system capable of delivering any type of post-visit survey to patients by text and e-mail. Post-Visit XP includes immediate, automated survey delivery, customization by appointment type, NPS scoring, advanced reporting, and patient review prompts.

3. Smart Patient: a powerful patient communication system that allows you to create impactful messages and updates. With the Easy-Author feature you can quickly create your own stand-out updates for your patient community. Specialty-specific health news information, updates daily.