---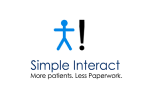 Simple Interact is a mobile-friendly Front Office Automation platform that speeds up your patient workflow while reducing staffing needs. You can pick and choose from the following suite of services:
HIPAA COMPLIANT FORMS: Intake, Image capture (Insurance card, Driver's license, Selfie), Medical history, Screenings, Legal, Informed consents, Initials, eSignature, Educational marketing.
PATIENT ENGAGEMENT: Reminders with ability to confirm/cancel/request-reschedule, Broadcast messages, Pre & post encounter instructions.
CONTACTLESS HEALTHCARE: Patient self-sign-in with address/insurance verification, Virtual waiting room, and Telehealth reminders and consent.
PATIENT FEEDBACK AND ONLINE REVIEWS: Surveys, Review requests for location and provider listings.
SCHEDULE RELATED AUTOMATION: Automated filling of cancelled appointment slots, Appointment request forms, Referral request forms, and Request management.
Business Benefits you Can Expect:
Speed up your workflow by automating form filling and data push activities prior to a patient visit.

Reduce staffing needs by automating repetitive scheduling, check in, and communication tasks.
Improve provider utilization by accommodating more visits per day and by filling cancelled appointment slots.
Implement social distancing by promoting contactless intake, image capture, and patient self-sign-in.
Increase sign ups to ancillary services or research studies using educational marketing forms.
Increase patient acquisition by improving online reputation on review sites.
Patient and Staff Experience:
PRIOR TO SCHEDULING
Patient finds you online due to online reputation
Patient fills online appointment request forms
Staff reviews request
Staff schedules appointment
AFTER SCHEDULING

Patient receives timely confirmation requests (Email, SMS, Voice)
Patient can confirm, cancel, or request a reschedule
Patient receives pre-procedure instructions
Staff can broadcast a message to patients (ex: clinic is cancelled)
Same day reminders reduce no shows and staff time
Patient is automatically notified of an earlier slot that just opened, and allowed to reschedule
Staff see a fuller schedule due to canceled slots being filled
PRIOR TO ARRIVAL

Patient receives timely requests to fill forms
Patient fills forms on personal device (smart phone, tablet, computer)
Patient is presented with appropriate forms using show/hide logic
Patient fills forms well before the appointment
Staff can send ad hoc requests to patients that have not filled forms
Images (insurance card, license, selfie) are auto uploaded to patient record
Discrete data (demographics, med history) is auto pushed to patient record
PDFs of completed and signed forms are auto uploaded to patient record
Workflow is sped up, staff time is reduced, and contactless intake is achieved
Staff is made aware of patient interest in ancillary services or research studies
Staff can view screening scores (ex: PHQ-9, KOOS) to track progress
ARRIVAL
Patients receive same day reminder with directions to location (Onsite visit) or video conference link (Telehealth visit)

Patient self signs in to complete address verification, insurance verification, annual legal form signing, and COVID questionnaire prior to arrival
Front desk staff has access to a task list to help process the signed-in patients.
Medical staff has access to a task list to triage patients that screened positive in the COVID questionnaire
This reduces staff time and achieves contactless check in
DURING ENCOUNTER

Staff asks patient to sign additional informed consent forms on a tablet
Patient reviews and signs
PDF of signed consent is auto uploaded to patient record
AFTER ENCOUNTER

Patient receives a survey request
Patient posts an online review on Google, Healthgrades, and other listings of the location or provider
Patient receives a post encounter reminder to perform additional tasks
Patient receives an email blast about other services
Documentation:
Each person on the team at Simple Interact has been very easy to work with. They are responsive to requests and are approachable to brainstorming new ideas on how to make processes more efficient and simple. If additional clarity is needed on their end, they are prompt at offering a dedicated call or virtual meeting to ensure they are understanding the full scope of the request.