---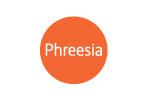 Phreesia is the trusted leader in patient activation, facilitating more than 120 million patient visits per year across 25+ specialties in all 50 states—about 1 in 10 visits across the U.S. Our innovative SaaS platform provides a suite of robust applications to manage every step of the patient journey—before, during and after their visit.
More than 3,100 healthcare organizations of all sizes use Phreesia to streamline registration, simplify scheduling, increase revenue, capture clinical data and support patient activation. Our industry-leading tools help you operate efficiently, strengthen your bottom line, keep patients engaged and drive outcomes that matter.
With Phreesia, you can:
• Simplify patient intake and expand your capacity without adding more staff
• Maximize front-office efficiency by digitally collecting patient consents before the clinical encounter
• Increase collections and get paid faster with flexible payment options, including Apple Pay® and Google Pay™, online payments, payment plans, card on file and more
• Streamline insurance verification and reduce manual steps with automated, unlimited E&B checks
• Close gaps in care with our robust library of clinical screening tools and customizable patient-outreach messaging options
• Engage patients in their care and provide the modern, convenient experience they expect
You'll also benefit from:
Analytics – Take control of your organization's financial and operational health. Our templated and customizable reports give you actionable, real-time insights to drive accountability and success across your organization.
Privacy and security – At Phreesia, privacy and security are our top priorities. We're honored to have our efforts recognized with many of the industry's most well-known certifications, including:
• HITRUST CSF Certification
• Payment Card Industry Data Security Standard (PCI-DSS) Level 1 Service Provider
• Security Organization Control (SOC) 2 Type 2
• PCI Point-to-Point Encryption (P2PE)
Phreesia: 2017 Veradigm Connect® Partner of the Year
"Phreesia's integrated workflows allow our staff to focus on the patient rather than data entry. We expected Phreesia to improve our bottom line, but we never expected how much it would impact and improve the way we interact with patients."
— Amy Smith, Director of Business Operations, The Jackson Clinic (a Veradigm organization)
Documentation:
Case Study - Wake Forest Pediatrics.pdf
We've been very pleased with Phreesia. Has helped streamline operations including our clinical information. It has become a vital part of our practice. Support has always been responsive and willing to customize things for our practice.
Utilizing Phreesia with regards to clinical and demographic export into our EMR and Practice Management systems has allowed us to collect information directly from the patient with only relying on minimal entry for our front desk staff freeing them up to attend to additional duties. Their payment suite has enabled us to capture a 97% daily intake of all copays. It helps those who are in need of an affordable payment plan to pay their bill, which is automatically deducted from their credit card monthly. We are also able to keep patients credit cards on file allowing us to take care of balances owed immediately.
We have been using Phreesia for several years and are very pleased with their service. It helps streamline the check-in process with less patient lines at the front desk. Copay collection rate increased after implementation. Integration for patient health history with our EHR makes the patient rooming process more efficient. Support is helpful and willing to customize interviews. Reporting is robust and allows you to capture data not just about payments but also about the actual workflow times, etc. Would recommend to anyone looking for a more automated check-in solution.
Our company has thoroughly enjoyed our relationship with Phreesia. The sales representatives are informative and knowledgeable. The implementation specialists truly cared about enhancing the patient experience for our practice. Although our practice is very unique in nature, they took the time to learn about our specialty and customize the software to meet our needs. Support technicians are quick to respond and ensure there are resolutions to any inquiry we may have. Phreesia is a forward moving company that truly values its clients. The actual software has streamlined our patient intake process and increased our collection rates at time of service tremendously. Our patient experience has been improved by allowing us to communicate with patients more proactively, which has also reduced our no show rates and late cancelations by large margins. The card on file feature has been instrumental in ensuring we receive timely payment. In addition, patient surveys and enhanced analytics help our practice respond to feedback provided by our clients in order to improve our customer service. The ability for referring physicians to submit referrals online and receive real time updates on the status of the referral has been very well received. In addition, Phreesia is always improving their integration with Allscripts and offering new and innovative features of their intake software. I highly recommend any practice utilizing Allscripts to partner with Phreesia.
Phreesia is a wonderful compliment to our clinical practice. It has allowed us to streamline our registration process, collect vital information in a timely manner and meet our process improvement metrics. The Phreesia support team is very responsive to our questions, timely with their follow up and willing to assist in any way they can. Love this product!!
We are continuing to expand our relationship with Phreesia. Adding the SDOH questionnaire has allowed our practice to further serve our patient population and identify gaps that may be preventing them from reaching optimal health. We are excited to be adding the online appointment request functionality as it will add another way for our patients to request to see their provider. The Phreesia team, as always, has made the process easy.
Phreesia has been a wonderful addition to our practice. We've increased collections, made payment plans so much easier and are checking eligibility much more efficiently. An added benefit that we didn't realize when we implemented Phreesia, was increasing the patient awareness of a previous balance that is due. It has improved the relationship our patients have with our front desk staff. Now when the front desk asks for payment, the patient isn't shocked and upset. Phreesia has been an incredible addition to our toolbox.
We began using Phreesia about 2 months ago and I am proud to say that it has been a huge addition to our practice. The insurance eligibility checker alone has been incredible. We have been able to increase collections and allow for better communication with our patients, especially during the COVID-19 pandemic. We believe the addition of Phreesia will be a huge asset to our practice in months and years to come. Not to mention, our implementation team was phenomenal. Nathan was so responsive and great to work with.
Phreesia has been a great addition to our Neurology Practice. We launched Zero Touch Check-in a month into the Covid-19 pandemic and it has become an extremely valuable partnership. Being able to stay in communication with our patients regarding protocols in office and via telehealth has truly enabled us to continue to provide excellent medical care. It has enable us to streamline our registration process for new and follow up patients and allowed for questionnaires including Covid-19 screens, improved collections of copays and outstanding balances and made checking real time eligibility a breeze. Our Phreesia onboarding team were amazing to work with and made the process so simple and streamlined. The Phreesia Dashboard has been a wonderful addition to our practice and I continue to highly recommend it!
Our organization implemented Phreesia over the summer and we have quickly adapted to the many features available, such as the COVID screening and patient consents/forms. Over the past few months, we have continued to optimize our check-in workflow as well as see a return on investment with the financial module and email payment reminders. Our implementation specialist and sales representative are extremely knowledgeable, efficient and provide answers/solutions in a timely manner - it has been a pleasure to develop a working relationship with them from the beginning! I would highly recommend incorporating Phreesia mobile intake solution for increased patient satisfaction, streamlining check-in and clinical workflow as well as improving collections. Phreesia has been an excellent complement to our growing needs!
Phreesia has been a crucial part to implementing our zero contact telehealth intake with the covid screeners, patient chat feature, enhanced mobile & automation of telehealth check-in registration, We were able to rebuild our schedules with Health Campaigns & self scheduling which reduced a lot of phone volume to less burden our support staff during this pandemic. We utilize as many aspects of Phreesia enhancements as we can which have improved our clinical & billing workflows. The Phreesia support staff is always eager to help & resolve any issues quickly & efficiently. Phreesia has been an amazing partner since 2017 & I couldn't imagine not having these features/enhancements.
Phreesia has been an absolute life-saver during the pandemic. The ability to perform contactless COVID-19 screening, patient intake, and payments have been a valuable tool in keeping the staff safe. The front desk spends considerably less time checking patient eligibility and updating demographics. The self-scheduling tool allows our walk-in After-Hours patients to choose an appointment online, which reduces the number of phone calls we have to place on hold. Highly recommend this product!
We have used Phreesia for 2 years now. We could not be more pleased with the application. The support staff is helpful and willing to think outside the box to make the product as useful as possible for our practice. We have been able to improve our check-in/check-out processes and increase patient collections. The appointment hub gives us more data about our referral base than we had before. Would definitely recommend this application.
COVID-19 has changed the medical profession starting from the front door all the way to the treatment room. Our practice went live with Phreesia back in October 2020 and have been very pleased with the program, training team and support technicians. With todays COVID-19 restrictions our practice has not only managed to continue getting up to date patient information but now with Phreesia the process is more efficient. We are able to collect on current and past balances before the patient ever steps foot in our office. Phreesia has reduced the patient's time spent with our front desk staff and allows more time spent with the physicians listening to their medical needs. We cannot not say enough about our Phreesia training team. Nathan and Tommy were always prompt for our phone meetings and email requests, even outside of our scheduled training. They always took time for us and may us feel that we were a priority, knowing they had many. It is always refreshing when you can ask a question and get the answer without having to wait a couple of hours or even days. Regarding Phreesia's reports, they are endless. You can drill down as much as you would like to see data from all aspects of your practice. We have just started the patient marketing survey with Phreesia and are excited to hear what our patients are saying about our services. We highly recommend Phreesia to any practice if you strived for a great product and a professional team to work with. WE ARE GLAD WE DID!
Phreesia has been hugely beneficial for us, pre-pandemic and currently. We are able to really operate in a "touchless" type of environment due to Phreesia. Phreesia staff and support are wonderful! You have your own dedicated team, and they are always quick to respond to any questions, problems, or ideas. I cannot recommend Phreesia highly enough!
Zero-contact intake saved our health center when our office moved everyone, except direct patient care staff, to work from home. It's worked out so well that we continue to add new modules and new features. For example, we implemented the survey tool and it's been very useful. The implementation team has been terrific - very responsive and creative. Thanks Phreesia!
Phreesia is a very robust yet streamlined solution that has dramatically changed the entire patient intake and outreach functions of our health center - emphasizing automation for both patient and clinic alike. Navigating Phreesia is very intuitive and user friendly, this has been very important making it a feasible product. Phreesia even includes a customizable training program based on the users role, trainings are clear and understandable. The Phreesia implementation and support team are very friendly and knowledgeable - it has been a pleasant experience working with them! I rate 4 stars, leaving room to reach for even more...is my mantra when scoring.
We are a large specialty practice with over 30 providers. I was skeptical of trying to change our check-in process during a pandemic. I didn't think many of our elderly patients would use the self-registration, but I am happy to admit I was more than wrong. We are about two months in and we are averaging right at a 49% self-service intake rate. This has reduced our front desk data entry workload tremendously. On average, patients are now ready for the provider 6 minutes and 49 seconds PRIOR to their appointment time! And, Phreesia has directly contributed to increased payments collected on balanced owed without any conversations even having to take place between staff and patients. The first week we went live with Phreesia, our collections DOUBLED. Lastly, the customer service we have received from the implementation team is top-notch. The only negative feedback I could even begin to contribute is that I cannot keep Thomas G. and his team forever.
This is a behavioral health practice with psychiatrists, psychologists and therapists. Since March 2020 the practice has converted all appointments to telehealth. It has been difficult to keep patient information updated and with mail problems, there have been troubles being paid promptly. It had become an impediment to treatment for our patients. We moved to Phreesia in November 2020 in order to provide a contactless means for registration and payment. It has worked and better than our expectations. Beyond the ease of using the product, the implementation has been flawless. This is the best implementation of new technology we have ever had. The goals were set in the beginning and followed throughout. At the end of implementation the Phreesia team reviewed them with us with an emphasis on achievements. Thomas, the implementation leader was well organized, on-time always, patient with our questions and could foresee the best way to make the program work. Each week we reviewed the stats for the prior week both what % of patients were using the application and how much money was collected. There was one problem that arose just before implementation which the Phreesia team handled expeditiously and coordinated with the sales team. It could have been a big problem but their approach is always, "how do we make this work." This is a superb experience. Highly recommend.
Great application! Phreesia is a company we have found to be progressive in their approach with continual updating and adding of new services. Our patients appreciate the reminder texts and check-in system. This appointment check-in allows the patients to pay their balances, update their demographic information and complete any necessary intake forms or questionnaires. We cannot express how useful and invaluable these services are to our company. Thank you guys and keep up the good work!
We rolled out Phreesia this year and we have not had one bad experience with them. From the sales team to the implementation team, all have been very helpful and ready to work with our practice and accommodate the needs of our individual practice. One thing I really loved about the whole process was they were very up front with us on what they can and can not do and there were no surprises. With COVID policies, it helped our patients and our office staff with maintaining the zero contact intake and keeping the patients coming in and out of the office in a timely manner, so patients were not building up in waiting areas. Every application in Phreesia has been a time and money saver for us. From the payment intakes (our collections went up), the eligibility and benefits in real time, appointment dashboard, and most importantly the intake forms going right in to our EHR. The staff loves that we can "work" a patient days in advance so once they are at the office all they have to do is check in. We have even been able to reduce our appointment times in our providers schedules by 10-15 mins, giving them more time to see more patients. We are very happy with the services it provides us and the whole team at Phreesia. I have rolled out many integrated programs with Allscripts though the years and Phreesia by far was the easiest to work with.
We are a Vascular Surgery practice that uses Allscripts PM and Pro EHR in a non-traditional way and Phreesia has been able to meet almost every customization we have requested. Their implementation team was wonderful to work with and extremely responsive to our questions and requests. We have been using Phreesia for two months and already see the benefits in speeding up the registration process and increasing our copay collection. Our only regret is that we did not move forward with Phreesia sooner. Thank you Phreesia Team!