FollowMyHealth Patient Engagement Platform
---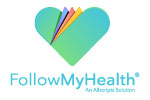 Established on a single mobile enterprise platform, the FollowMyHealth® Patient Engagement Platform creates an experience where patients can actively participate in their care journeys on the devices they use every day—dramatically improving the quality of care and outcomes experienced, while driving measurable ROI and increasing patient and care team satisfaction.
Telehealth, personal health records, electronic check-in, appointment confirmations and reminders, remote patient monitoring with device integration, and more are integrated seamlessly. Patients receive actionable communication and information regarding appointments, check-in, point-of-care assessments, education, care summaries, satisfaction surveys and more.
By delivering the right message at the right time, providers are ultimately empowering and guiding patients through their healthcare journey.
Documentation:
FMH_Platform_BenefitOverview_2021.pdf
FMH_Platform_Datasheet_2021.pdf
Los Angeles LGBT Center - Client Success Story (2).PDF
SBH Health Bridging the Digital Divide with Allscripts Telehealth (Client Story) (1).PDF