EM Data Assist by VisitEase
---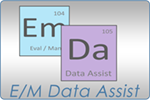 Currently offering free software for early adopters! Contact info@visitease.com for more information.
E/M Data Assist provides an in-depth summary of all steps taken during the Patient Visit to ensure a Medically Appropriate History and Exam were completed to compliment the physician's Medical Decision Making (MDM) calculations used to determine the correct E/M Service Code.

E/M Data Assist is designed to reside in the same Secure Environment that your Veradigm® EHR or TouchWorks is located in. This way, since the security of your patient's medical information is already established, there are no HIPAA issues relating to its use.
Documentation:
Optimizing Your EHR Solution VisitEase Final.pdf
VisitEase App of the Month 2022.pdf