---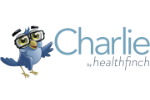 healthfinch develops Charlie, the healthcare industry's most trusted, most used prescription renewal delegation engine. Charlie's unique combination of technology, prescription renewal protocol content, and workflow optimization enable health systems across the country to deliver a better, safer patient experience. Health systems will also benefit from lower rates of provider burnout, improved quality metrics, and significant time and cost savings.

How does Charlie work?
Charlie fully integrates with TouchWorks EHR to fit into your existing workflows. When a prescription renewal request hits the Task List, Charlie automatically searches the patient's chart for relevant information such as the last qualifying visit and latest lab results. The collected patient data is then compared against the evidence-based protocol requirements that have been configured to your organization's standard of care. In doing so, Charlie identifies gaps in care - overdue visits, labs or other monitoring.
For the end user completing the task, Charlie will present all relevant prescription renewal data (labs, visits, monitoring, etc) right in the renewal request — either identifying it as "In Protocol" and safe to renew or noting whether it needs further attention such as to close identified gaps in care or have a provider review. Charlie even identifies duplicate requests and other warnings, which eliminates unnecessary work and redirects staff attention to other activities.
What impact can Charlie have on your practice?
Health systems who use Charlie realize substantial efficiency and financial savings, as providers and clinical staff spend more time on direct patient care and less time on non-reimbursable, below-license busywork like prescription renewal requests. Charlie also helps alleviate after-hours work, which providers often cite as a key contributor to burnout.
SAVE TIME: Charlie automatically checks renewal requests against protocols - no more time-consuming, manual chart review.
IMPROVE QUALITY: Loaded with over 1,000 evidence-based and configurable prescription renewal protocols, Charlie enables consistent care delivery across your organization.
TRANSFORM WORKFLOWS: Eliminate the need for time-consuming and error-prone manual workflows. Charlie fully integrates with TouchWorks EHR and promotes safe delegation of requests from providers to staff.
PROACTIVELY IDENTIFY CARE GAPS: Drive additional or missed revenue sources while also providing a better and safer patient experience by identifying outstanding care gaps for all of the patient's active medications at the time of any prescription renewal.
See Charlie in action!
Watch our 2-minute overview video to see how Charlie goes to work in TouchWorks EHR.
Charlie's hard at work supporting over 7,000 providers across the U.S. Just last year alone, Charlie processed over 9 million renewal requests and served 1.7 million patients. Ready to put Charlie to work for you? Contact us for a demo.
eBook Series:
To better understand the impact prescription renewals have on organizations and how standardized workflows and protocols can help, healthfinch has developed a 3-part eBook series. Download one or all of them to learn more!
Featured October 2019 App of the Month
Watch the webinar replay: How to achieve safe prescription renewal delegation
Documentation:
St. Joseph Case Study 2018.pdf
"Today, over 65% of all refill requests are processed by nonclinical refill technicians, up from 50% before using Charlie. Technicians have increased their efficiency threefold, now processing upwards of 200 refills per eight-hour shift. This greatly reduces the burden on our providers at the end of the day and evening hours." — Renee Voll, Executive Director of Patient Experience and Contact Center at St. Joseph Heritage Healthcare