Wolomi Community App and Birth Classes
---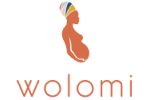 The Wolomi mobile app is a pregnancy companion for women of color that educates and empowers users to improve their pregnancy outcomes.

Through the 'ASK THE EXPERT' feature, users are able to access a team of experts that answer their pregnancy-related questions within 72 hours via a forum format.
The app's 'COMMUNITY/EVENTS' feature offers programming and access to a welcoming community of like-minded women who are going through a similar experience.
Through it's 'YOUR WEEKLY PREGNANCY UPDATES' feature, the app sends weekly pregnancy updates from a trusted expert via text messages. This feature allows users to know what changes are happening to their bodies and their babies, and offers Rx reminders.
The app's 'MENTAL HEALTH SCREENING' feature is a friendly, quarterly pop-up screening of moms with PHQ2 that is scored. This screening is crucial to providers and health systems.
The Wolomi community also offers culturally relevant birth classes and personal pregnancy companion support.